The Google AdSense Team has really been busy as of late releasing numerous changes as the end of the year approaches.

AdSense Unit Themes
The most attractive -- in my opinion -- is an opt-in to turn on Google seasonal themed ads. The ads are geo-targeted so in China someone may see a themed ad for the Chinese New Year while those in the US would see something different. I reported on this just after Halloween. An example of the themed ads can be seen at right (from the Halloween theme). You can opt-in to have your ads displayed with themes by taking the following actions.



Log into your AdSense control panel


Click the My Account tab


Click Edit next to Ad Type Preference


Click Enable themed ad units when available (as seen below)


Save Changes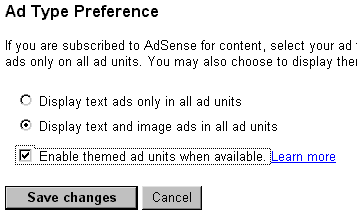 It's too early to tell if this has a positive effect on Click Through Rate (CTR), but we'll find out soon and I'll report on how well it's going for me.
There's more on these themed ads at: Jensense, Eric Giguere, Problogger, DigitalPoint, WebmasterWorld
Google Search Display
The next significant change is that Google is no longer requiring you to display the Google logo when you place the Google SearchBox on your pages. It now allows you to choose displaying "Google Search" on the button instead. This streamlines the look of the box.

I haven't had luck with Google Search and reverted Diggers Realm back to an internal search which increases page views rather than sending someone to a Google search page which isn't benefiting me.
Jensense notices the same thing.
I have never had much luck with AdSense for Search (in fact, I only know a handful of publishers - mostly with similar types of sites - that have had much success with this product from AdSense), and part of the problem was the bulky implementation of the search box that publishers are required to use. I will have to start testing this one again.
She also noticed that you can change which Google search country is used with your search box (i.e. UK).
More on search changes at: Problogger, ShoeMoney
AdSense Reports Emailed To You
You can now set it up -- through the Report Manager link -- so that your custom reports you have saved are sent to you daily, weekly or monthly. This is great if you're on the go or are just sick of logging into Google AdSense to see your stats. The reports are sent in CSV format.
Unfortunately, there is no option to send out reports on an hourly basis, just daily, weekly or monthly, so it certainly won't replace the AdSense Notifier. But it's a nice option to have.
One of the drawbacks is that you can only receive each email report once per day, so bad news for chronic stat checkers who would be happy with nothing less than stats emailed every 15 minutes! ... a couple of people have already expressed that they would be willing to pay a small amount for the convenience of frequent stats update ... Right now there is also a limit of ten reports being available via email.

The best feature of the new emailed reports is that you can specify alternate email addresses
New Colors For AdSense Referral Buttons
Google has added some new colors for their AdSense referral buttons. They now come in Green and Blue.
Changes to the AdLinks Landing Pages
There have been some stylistic changes to the AdLinks landing pages that people reach when they click on one of your AdLinks. Whether this will improve click through rates (CTR) we'll have to wait and see.
This is quite a bit of changes in just a few days. Google seems to really have been on the ball and trying to improve results for not only themselves, but their publishers and advertisers as well.
This entry is in the following archive(s):
Google AdSense Archive