In my last post that mentioned drops in AdSense revenue I mentioned that occasionally I see a dramatic drop in AdSense revenue for a day over at Diggers Realm. I'm going to deem these drops as "revenue hiccups" because that's what it seems to be.
Today revenue bounced back from the hiccup yesterday. The chart below is a continuation of the chart I posted in the previous article on this.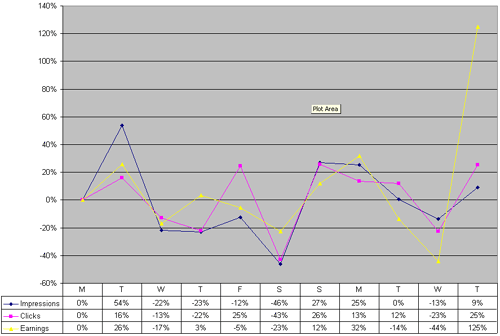 Look at that! A drop of 44% in revenue one day and a gain of 125% the next. I'm not sure what causes these dramatic swings, but I have noticed them occurring before. My traffic has remained relatively stable during this period the past 3 or 4 days.
Is Google somehow analyzing the ads and trying some different ads for a day to judge performance? Is there a serious flaw in the AdSense program? Are they testing some beta software on me here and there to see if they can squeak a little more cash out of advertisers? Or are they simply just gouging me for a day in hopes that I don't notice?
I'd really like an explanation.

This entry is in the following archive(s):
Google AdSense Archive