I've never understood this and I don't think I ever will. What causes such dramatic drops in AdSense revenue on occasion?
I had one of those days yesterday. Below is a chart showing data from Diggers Realm. I can't show specific numbers so the chart shows percentage increases and decreases from day to day.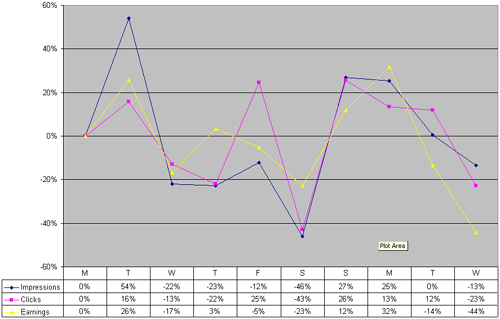 I went through the stats and it wasn't because of any site targeting that an advertiser was doing. You'll notice that yesterdays revenue dropped 44%, nearly half! Needless to say I wasn't too happy with that. Revenue has been pretty stable all week until yesterday.
Page views weren't really low either. They were on par with an average day. There's been talk of something called "smart pricing" going around for awhile, but I have no idea why -- in the middle of the week -- it would drop so low?
Wednesdays are usually pretty decent days with the weekends being lower. The weekend drops are explainable because some advertisers suspend their campaigns on the weekends.
If anyone else has noticed this -- or has an idea of why this is -- let me know.
This entry is in the following archive(s):
Google AdSense Archive