BlogAds took an order from MSNBC a few days ago to place an ad on 800 blogs, a new record for BlogAds. Diggers Realm was the recipient of one of those orders and it is currently up and running. The ad has rotated over the past few days highlighting different special stories they are running on MSNBC, such as Rita Cosby's report on porn. Does this show the growth of mainstream advertisers across the whole of the BlogoSphere or is it a one time deal? Only time will tell.
From Henry Copeland:


To give you some personal context, this is biggest BlogAd buy ever -- 800 blogs. This is more ads than BlogAds.com sold in the entirety of 2003. (The previous record was held by Audi, which ordered ads on 286 blogs last spring.)

I also received an email today from Henry that the order has been written up as part of a New York Times article.
The MSNBC cable network plans to flood the Internet this week with its largest concentrated online pitch, running advertising on hundreds of Web sites and blogs. The cost of the campaign, to promote three prime-time programs, is estimated at just under $1 million.

MSNBC, owned by Microsoft and the NBC Universal division of General Electric, will promote the shows - with their hosts, Keith Olbermann, Rita Cosby and Joe Scarborough - in ads that are to start appearing tomorrow and continue all day Wednesday. Some ads will promote segments on the shows about life online, like how marketers sponsor "viral" video clips that consumers can forward to each other.

MSNBC will take over every pixel of ad space on Wednesday on three Web sites: newsweek.com, slate.com and washingtonpost.com. It is the first time the three sites will all run ads for the same sole advertiser on the same day,

...

Val Nichols, vice president for the creative services group at MSNBC, estimated the campaign would get 114 million viewings in total. Among the 800 blogs that will run the ads are Adrants, Althouse, Curbed, Daily Kos, Gothamist, IndieWire, Largehearted Boy, Talking Points Memo and TV Newser. Buying ads on 800 blogs is a major commitment to that fledgling medium.

I'll be interested in seeing if it was successful. We'll probably know this if another buy is placed in the future.
Other Commentary:
Business Blog Consulting
WolfTrust.com
Update: (Dec 13, 1AM EST)
Some readers of websites have written into blog owners expressing disgust at the porn story ads being run by MSNBC for Rita Cosby's specials: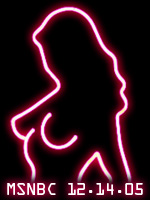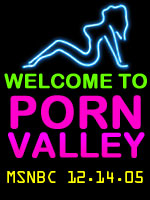 I personally don't see anything offensive other than the fact they seem to put a stamp of approval on the porn industry by MSNBC.
Captain Ed at Captains Quarters writes this:


First, on the ad itself, the graphic shows the outline of a female torso and the word "Porn". I don't find the outline objectionable; I've seen bra ads that reveal much more.

James Joyner of Outside The Beltway notices their stats:


the click through rates I'm seeing on my adstrip indicates that the ad is "working" in the sense of generating clicks. Whether it's doing anything to increase viewership is another matter, of course.

Donald Sensing (a pastoral counselor) of One Hand Clapping:


I've received one email alerting me to the fact the the Blogad at left, taken out by MSNBC, is a little racy. While I see the point, it's no racier than the mudflaps of some 18-wheelers going down the interstates.

...

I'm leaving it up


Several readers have emailed in about the "Porn ad" in the top center column. For those who've hastened to click through the ad, sorry you've been disappointed.


Leave the neon tits to the sex blogs.

Update: (Dec 13, 9:45 PM EST)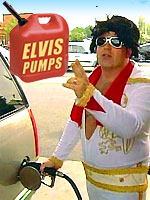 They've changed the ad once again to the image at right of Elvis pumping gas.
PoliBlog has this to say:

And as of a little while ago, the neon chick had been replaced by Elvis pumping gas.

And they wonder why MSNBC is in third.
This entry is in the following archive(s):
BlogAds Archive